What is Shattered World?
About Shattered World
About MUDs
How do I play?
Frequently Asked Questions

Dynamic Commands
Who's On?
Sanom City Times
E-Mail Admin
Play Now!

Game Features
Races
Guilds
Quests
Lords
Cults
Skills
Legal System
Economic System
Maps

Shattered World
Wizards
Copyright Policy
Feedback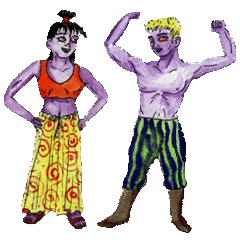 Small, tough-skinned creatures, Galandrians are a good all-round race with solid combat skills. They appear humanoid, with pale purple skin and unruly mops of metallic gold or jet-black hair crowning their heads. Their metallic-coloured eyes are believed to change colour as they gain power and knowledge.

Attributes: Above average charisma, sanity, dexterity and strength.

Powers: Mental powers, including the ability to bond with animals. Claws and thick skin give them some natural combat ability (approximately equivalent to a knife and ringmail)

Vulnerabilities: Wearing armour interferes with their mental powers, and can actually be detrimental in the long term. They are also poor at swimming.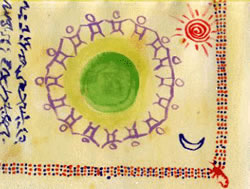 "Detail from an ancient Galandrian manuscript depicts a tribe dancing around a glowing meteorite."